---
3D Printing
We are now offering 3D Printed Products. We utilize 3D Printing to be able to perfect the perfect filters for our customers. With the help of 3D Printing, we are able to be more precise with the measurements and fitment of out Fleet- Filters. For more information about our 3D Printing, Give us a call today!
NEW!! Washable Cabin FIlters
Now introducing Fleet-Air Filters Cabin Air Filters. We are now accepting orders for Semi Cabin Filters. These are made to order and not kept in stock. If you have any questions, feel free to contact us via phone or email.
---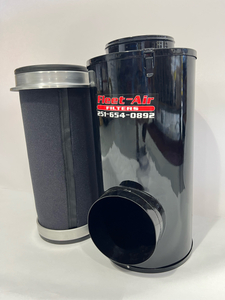 NEW! FA-2722
Our new Fleet-Filter with Canister fits Kenworth W900L 12.7 Detrout DDEC. For more information, call us today!
---
---
High Flow Washable Truck and Semi Truck Air Filters
---
Fleet Air Filters is the ONLY lifetime, washable, high flow air filter on the planet! 
Lower your operating cost, increase your horsepower, and increase your fuel mileage!
Fleet Air Filters come apart so you can get them 100% CLEAN every time! Stop wasting your money on paper filters, and other "washable" filters, and start saving TODAY with Fleet Air.
Fleet Air offers filters for medium duty to heavy duty Class 4-8 trucks.
We are proudly 100% MADE and DESIGNED IN THE USA!!!
---
Fleet Air Filters Made in the USA C&C machine
---
See how much you can save with a fleet air filter
Use our calculator to see how much you will save using Fleet air filters 
Click Here
---
Fleet-Air Performance Filter | Product Overview